Gamaliel's Iowa affiliate, JCIC, organizes to secure hate crimes ordinance and wins!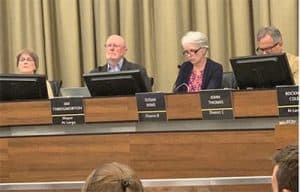 On June 11, 2019, just fifteen months after Johnson County Interfaith Coalition (JCIC) launched a campaign to secure a hate crimes ordinance in Iowa City, IA, the city council voted unanimously to pass the ordinance into law.  The ordinance took effect when it was published on June 27, 2019.
Currently 46 states and the District of Columbia have hate crimes statutes in place that criminalize bias-motivated violence or intimidation on the basis of race, religion, and ethnicity, with some states adding disability, sexual orientation, gender, age, political affiliation, and/or homelessness.  Responding to the efforts of the National Alliance (an organization that on its website denounces multi-racial society and calls for government to be wholly responsible to a single racial identity) to intimidate communities of color in Iowa City through the distribution of racist and anti-Semitic messages, JCIC President, Rev. Anthony Smith, and a team of leaders began to research the Iowa hate crimes legislation and found it insufficient to address the hateful acts that had plagued their community in recent years.
JCIC retained the Community Empowerment Law Project (CELP) at the University of Iowa School of Law to research and draft a local hate crimes ordinance so that the JCIC Safe Communities Task Force could devote its time and energy to designing a larger, grassroots campaign.  As part of that process, JCIC engaged in the following:
The construction of two draft ordinances;
A deep power analysis which determined that the city council, city attorney, and the police chief had the power to implement the ordinance;
A survey campaign that revealed one in five people of color in the community have experienced a hate crime;
Power one-to-ones with key leaders including the mayor, four city council members, the city attorney, and the police chief—all of whom ultimately supported moving the ordinance forward; and
A series of community agency reviews with the American Civil Liberties Union, the Anti-Defamation League, NAACP (state level), Black Voices Project, the Center for Worker Justice, and a number of congregations and organizations in the religious community—their feedback impacted final ordinance language and draft selection and resulted in a powerful community coalition.
While JCIC worked to organize the community and leaders, CELP focused on identifying draft ordinance language that could withstand a court challenge, developing a process for passing the ordinance into law, and securing and interpreting FBI hate crime data for the region.
The final draft of the ordinance creates a hate crime for harassment or trespass with intent to harass done because of a person's protected characteristic, and it enhances the penalty for perpetrating a hate crime.  In other words, jail time is added to fines—3-7 days for a first offense and 30 days for subsequent offenses.  When the final draft of the hate crimes ordinance was finally introduced to the City Council of Iowa City in May 2019, Chief of Police Jody Matherly spoke publicly in support of its passage.
Speaking on behalf of JCIC and the Safe Communities Task Force, Rev. Smith said:  "We have much to celebrate in securing this win for our community—and we will.  From the beginning our goals have been:
To establish JCIC as a community-building and unifying entity that can influence and shape local and state policy relating to social justice and racial equity;
To deter hate and bias-motivated activity towards minority communities;
To establish and enforce consequences for those who participate in hate and bias-motivated activity towards minority communities; and
To create a process for collecting and understanding data about hate and bias-motivated activity in the area.
We have achieved those goals and more!  Our work is not complete.  We will continue to work with City Attorney Eleanor Dilkes to secure policies or resolutions that will ensure adequate data collection and provide relevant training for our police officers."
Johnson County Interfaith Coalition
—an affiliate of the Gamaliel Network—is a multi-cultural, faith-based community organization that advocates for social justice with a focus on social equity, first and foremost for persons of color.
The Gamaliel Network is a community organizing network with affiliates in 16 states and 44 regions.  Gamaliel's organizing work draws on struggles for justice by people of faith spanning many nations, creeds, and cultures.  Our work draws on the sacred writings of our multiple faith  traditions—Christian teachings from the Bible, the Torah, Catholic social teaching—as well as the founding principles of American democracy, the U.S. civil rights movement, and many other sources.  Above all, our work begins and ends in an expression of the personal faith and values of our members.
To learn more about the process JCIC and CELP used to develop and secure passage of the city ordinance, click here.
To read a previous eblast about JCIC's journey to action, click here.
---
The Gamaliel National Religious Leaders' Caucus is hosting a webinar for religious leaders and organizers on July 16,
"A Faithful Response to White Nationalism and Hate Crimes."
Rev. Adam Taylor, Executive Director of Sojourners and author of Mobilizing Hope: Faith-Inspired Activism for a Post-Civil Rights Generation, and Rev. Anthony Smith, Pastor of New Creations International Church (Iowa City, IA), and President of one of Gamaliel's newest affiliates, Johnson County Interfaith Coalition or JCIC (Johnson County, Iowa), are two of the featured speakers.  For more information, contact Rev. Cynthia Jarrold, Gamaliel National Policy Director.