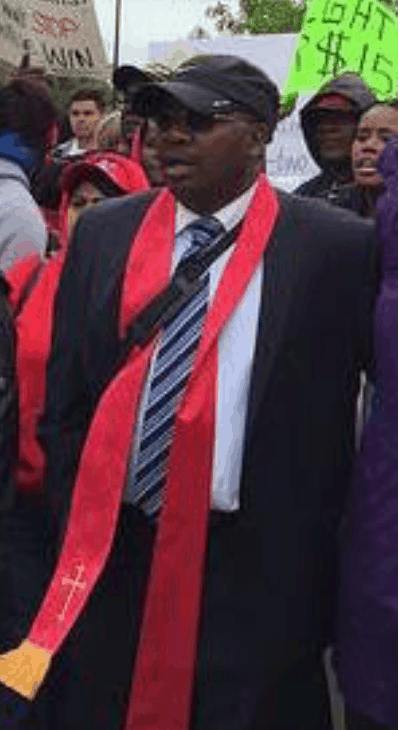 What is your current involvement with Gamaliel?
I am currently the Co-Chair of the Metro Organization for Racial and Economic Equity (MORE2). My role as Co-Chair is to help lead MORE2 in a prophetic way to help bring equity and justice to the greater metropolitan Kansas City region.
How did you get involved with Gamaliel?
I came to Kansas City four years ago and became the pastor of Swope Parkway United Christian Church, which was one of the founding members of MORE2.
What are some of your recent accomplishments with Gamaliel?
Recently, the Kansas City school district was about to lose its accreditation and Missouri's Commissioner of Education was simultaneously working with another group to "charterize" the district. Additionally, MORE2 discovered that there were some major discrepancies in the bidding process. As a result, I helped lead several actions against the Commissioner, including one at the state's Board of Education in Jefferson City that was so large they had to change the venue. Ultimately, the Board of Education backed off and the Kansas City school district remains provisionally accredited. The community came out, got involved, and made a big difference.
I have also been very involved in the national fast-food worker "Fight for $15" campaign and was invited to speak at the national conference in Atlanta. I was one of the guest speakers at the corporate headquarters of MacDonald's in the suburbs of Chicago, where over 5,000 workers showed up. Additionally, MSNBC published an op-ed about these efforts that I co-authored with the Rev. Dr. William Barber. My work is simply a part of a growing series of actions that will ultimately lead to some significant wins. Already, the fast-food, low-wage workers have changed the consciousness of America.
What are you currently working on?
In addition to working on the "Fight for $15," there is another situation with the Kansas City school district in which a French-based charter school would like to take over a public school building, which would displace over 400 students. Additionally, the charter school would require applicants from Kansas City public schools to take a test, while exempting their own members and students from that requirement. Right now, I am working with MORE2 to bring about community awareness to this issue.
How do you want people to view you as a leader?
I would like to be viewed as a leader who is very much concerned about the needs of the people within the community and one who will fight for them and with them over the long haul. I would like to be seen as a prophetic voice speaking truth to power.
Can you talk about how your faith has inspired your leadership position?
We preach a prophetic liberation gospel on Sundays and throughout the week, but working with MORE2 allows me to live out in the public arena what we preach about on Sundays. Everything I do is grounded in Luke 4: 18-19, which says, "The Spirit of the Lord is on you, because he has anointed you to proclaim good news to the poor. He has sent you to proclaim freedom for the prisoners and recovery of sight for the blind, to set the oppressed free, to proclaim the year of the Lord's favor."
The power structures of our day are keeping people captive and preventing them from walking in the full potential that God has for all human beings. Personally, I believe that God has called me to speak for those who cannot speak for themselves and for those who have been marginalized by the existing power structures. I am charged with taking that message to City Hall, to the capital of Missouri, and beyond.
More about Rev. Dr. Rodney E. Williams
Rev. Dr. Rodney E. Williams serves as Pastor of Swope Parkway United Christian Church in Kansas City, Missouri. He received his B.S. in Business Administration and a Masters of Divinity of Theology from Virginia Union University School of Theology. He went on to earn a Doctorate of Ministry from Colgate Rochester Crozer Divinity School in Rochester, New York. His Doctoral studies were in the area of Transformative Leadership, with a concentration in Prophetic Preaching.
In addition to his extensive academic scholarship, Rev. Dr. Williams also served as an Old Testament Survey instructor for Beaufort County Community College, a Clinical Chaplain for the North Carolina Department of Corrections, and the pastor of Zion Grove Christian Church in Columbia, North Carolina.
Rev. Dr. Williams is married to Lorianne Williams and has three children, Danielle, Rodney, and Courtney.