Transformational Justice in Action is holding a social media action, #UnlockTheVote, throughout the month of September. We're raising awareness of the issue of disenfranchisement among people with conviction histories, letting people with conviction histories know that they can vote in some states and circumstances, and promoting our #UnlockTheVote campaign.
Keep an eye out for our posts all month long, and share them when they come across your timeline. Want to get involved more directly? Contact your local Gamaliel affiliate to learn more, or reach out to [email protected].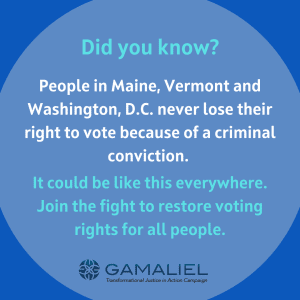 Did you know that people in Maine, Vermont and Washington, D.C. never lose the right to vote, even if they're incarcerated? 
Gamaliel's Transformational Justice in Action Campaign believes that if elected officials' decisions affect your life, you should be able to vote, and we're working to make that happen.
Join us in the fight to restore voting rights to people with conviction histories! Come to the Transformational Justice in Action Virtual Town Hall October 1 at 2 p.m. CT. Register here.