We weren't able to gather in person for Ntosake 2021, but we have a series of virtual Ntosake Mini-Sessions planned to lead us into our in-person gatehring in Spetember 2022.
Save the dates for our Mini-Sessions: January 20, 2022; May 19, 2022; and July 21, 2022. 
On January 20, we'll discuss Storytelling: From History to 'HerStory.'
On May 19, we'll discuss Rebuilding Our Solidarity
On July 21, we'll tackle Pride Registration and Ntosake Turn-out
On September 21 - 24, Ntosake Leadership Training. Lake Williamson Conference Center.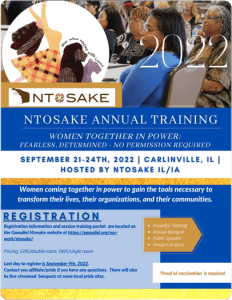 Learn more about each of these sessions on our training page.
Registration for these sessions will open soon. Registration is $50/person for all sessions. If you paid for the Ntosake Teaser in September or the mini session on November 18, you do not have to pay again.
If you have any questions, please feel free to contact [email protected] or [email protected].
Not a member of a Gamaliel affiliate? Contact your local affiliate or Sr. Cheryl Liske, National Training Director, at [email protected].
The History of Ntosake—Women Who Walk with Lions and Carry Their Own Things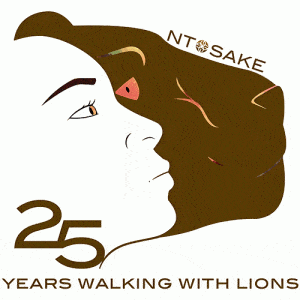 In 1993, in response to deep, historical systems of patriarchy, a group of women organizers and leaders from across the Gamaliel Network created the "Women's Weekend." This weekend was conceived as an opportunity for women to freely explore building a life as a leader in their communities and congregations.
We found that women hungered to find new and powerful ways to transform their lives. Knowing that women often do not find spaces that are bold, life-giving and affirming, the planners were mindful that they should also honor the spirituality of women.
The centerpiece of a closing sermon given by Rev. Dr. Brenda Hayes of the African Methodist Episcopal Church was a word, "Ntosake." Ntosake originates from several indigenous languages from the southern part of Africa and means, "She who comes with her own things."
Upon hearing the word and its definition, an awakening swept through the room and 75 women declared "We are Ntosake."
Want to know more about Ntosake? Listen to Sara Meyer (Quad Cities Interfaith) as she discusses her experience at Ntosake 2019: