Gamaliel National Religious Leaders Caucus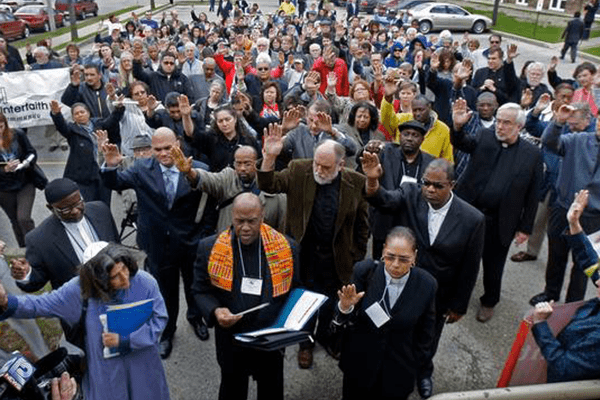 About the Gamaliel Religious Leaders Caucus
The purpose of the Gamaliel National Religious Leaders Caucus (GNRLC) is to act within the Gamaliel Network in ways that faithfully witness to the God of love, power, justice, and community.  The GNRLC will:
Serve as the shaper and bearer of the comprehensive vision of congregation-based organizing for Gamaliel affiliates through each affiliate's religious leaders caucus;
Offer counsel, direction and prophetic corrective to religious leader caucuses of Gamaliel affiliates and to the national network as a whole;
Support and expand congregation-based organizing;
Develop a body of theological materials relevant to principles of congregation-based organizing;
Challenge organizers to be attentive to the needs, theologies, and values of the religious communities; and
Strengthen relationships between the Gamaliel Network and denominational judicatories.
The GNRLC is coordinated by a steering committee currently composed of the following religious leaders—Rev. Charles Baugh, Maryland; Rev. Marian Boyle-Rohloff, Wisconsin; Rev. Charles Coleman, Michigan; and Rev. Stephen Jones, Missouri—and staffed by Gamaliel Executive Director, Ana Garcia-Ashley.  Membership in the GNRLC is open to all religious leaders who are part of the Gamaliel Network.
---
A Faithful Response to White Nationalism and Hate Crimes
On Tuesday, July 16, more than 50 religious leaders from across the Gamaliel Network gathered via Zoom to reflect on a faithful response to white nationalism and hate crimes. Panelists (see list below) provided a framework for the conversation. In small groups, religious leaders wrestled with where they saw God in the stories the panelists, as well as questions about how their own faith traditions speak to hate-motivated actions and speech and white nationalism and what they were inclined to do in response to the presentation and conversation.
Their reflections will be used as part of the development of theological statement that will guide Gamaliel's response to the rise in white nationalism and hate crimes. We invite you to offer your own wisdom and experience to this critical conversation and the development of our theological statement by responding to the following question in the adjacent compose box: How does your faith tradition speak to hate, hate crimes, and white nationalism? If you would like additional information, the compose box can also be used for asking your question(s).
Panelists for the July 16 webinar, "A Faithful Response to White Nationalism and Hate Crimes," included:
Rev. Adam Taylor, Executive Director of Sojourners and author of Mobilizing Hope: Faith-Inspired Activism for a Post Civil Rights Generation, who laid out the framework for the issue and provided an overview of the socio-political landscape;
Josh Sayles, Director of the Community Relations Council, Jewish Federation of Greater Pittsburgh, who described the religious community's response to the mass shooting at Tree of Life Synagogue in October 2018;
Rahul Dubey, originally from the Sikh Temple of Wisconsin, whose Godfather and Temple Founder, Satwant Singh Kaleka, along with others, was killed by a shooter at the Temple in August 2012, who shared lessons learned from that experience.
Rev. Anthony Smith, Pastor of New Creations International Church (Iowa City, IA), and President of one of Gamaliel's newest affiliates, Johnson County Interfaith Cluster or JCIC (Johnson County, Iowa), who provided an overview of JCIC's recent organizing efforts to secure a hate crimes ordinance in Iowa City in response to the actions of a white nationalist group.