Gamaliel National Religious Leaders Caucus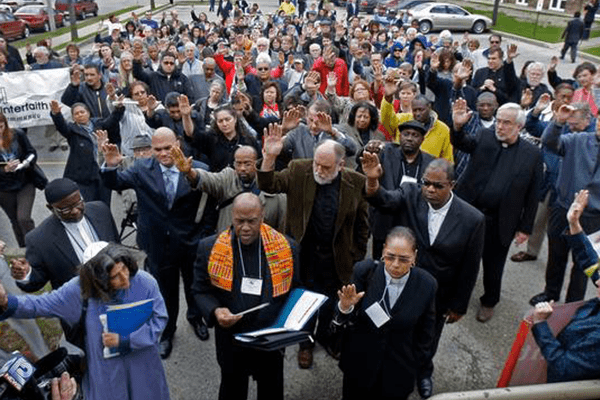 About the Gamaliel Religious Leaders Caucus
Purpose of the Gamaliel National Religious Leaders' Caucus
"If I dream alone, it is only a dream. If we dream together, it is the beginning of reality."
—Dom Hélder Pessoa Câmara, Brazilian Catholic Archbishop of Olinda and Recife,
a champion for the poor, for human rights, and for democracy
The purpose of the Gamaliel National Religious Leaders' Caucus (GNRLC) is to act within the Gamaliel Network in ways that faithfully witness to the God of love, power, justice, and community. The GNRLC will:
Serve as the shaper and bearer of the comprehensive vision of congregation-based organizing for Gamaliel affiliates through each local/state affiliate's religious leaders' caucus;
Offer counsel, direction, and prophetic corrective to religious leaders' caucuses of Gamaliel affiliates and to the national network as a whole;
Support and expand congregation-based organizing;
Develop a body of theological materials relevant to principles of congregation-based organizing;
Challenge organizing staff to be attentive to the needs, theologies, and values of religious communities; and
Strengthen relationships between the Gamaliel Network and denominational judicatories.
---
Gamaliel Religious Leaders in the News
"Opinion: Faith leaders must unite to overcome hate," Rev. Keith Whitney
The Rev. Keith Whitney is the senior pastor at Sanctuary Fellowship Baptist Church in Detroit and also serves as board president of MOSES, a nonprofit organization of faith-based leaders dedicated to social justice advocacy, and a Gamaliel affiliate.
A Faithful Response to Hate Crimes and White Nationalism
"Today, white nationalists are experiencing a renaissance of power and acceptance. Their philosophy of racial su­periority stands in sharp contrast to a belief in a God who created human diversity and in a society that has been built, since its origins, on an ethnic and racial diversity now considered our nation's strength, not its scourge.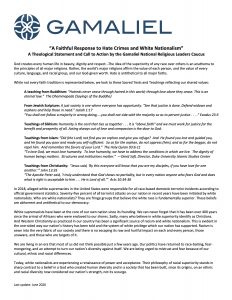 We, as leaders of Gamaliel, must be vigilant. We must unite our interfaith voices. We must alert our local and na­tional leaders as to the high cost of ignoring or tolerating this threat to our democracy. We must work to pass local laws that place respectful boundaries around speech and action that divide our nation.
Clergy and religious leaders must take the lead. We have a particular responsibility and burden to speak the truth. Hate has no place in our hearts and no place in our society."