A Look at Gamaliel's Criminal Justice Work
Why it Matters
The current criminal justice system in the U.S. is the inevitable outcome of centuries of systemic racism and economic inequity.  Societal failure to ensure quality employment, housing, education, and healthcare (including behavioral health and mental health) to huge numbers of people—especially poor people and people of color—combined with an calculated, insidious legislative, regulatory, and judicial agenda to criminalize people of color has resulted in more than two million incarcerated people in our country, by far the world's worst rate of incarceration.  At the same time, incarceration itself is a huge accelerant of poverty, ill-health, broken family and community relationships, and the prospects for a healthy, productive life.
The Gamaliel Network recognizes that there are no simple solutions to the problem of mass incarceration.  We recognize that sometimes even incremental success creates new problems (e.g., some reductions in jail populations have resulted in a greater number of people on electronic monitoring and mass supervision).  Further, the criminal justice system intersects with many other systems (i.e., health, education, employment, housing) requiring a more comprehensive approach to solving the problem of mass incarceration.
As people of faith we believe in the inherent worth and dignity of every human being.  We are called to live in authentic community with one another; but more importantly, we are called to ensure that every human being has access to that community through restorative practice, including people with conviction histories.
"Never forget that justice is what love looks like in public."
—Cornel West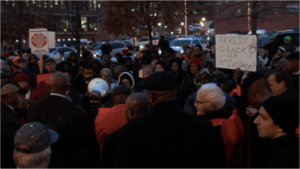 Strategies for Ending Mass Incarceration
Strategy 1:  Create greater awareness and an alternative vision in the broader community, starting with the faith community
At its core, mass incarceration is a serious spiritual and moral issue for our nation.  Communities and nations cannot systematically and unreflectively cage and marginalize massive numbers of human beings without first diminishing the recognition of their inherent and immeasurable worth as children of God.
We believe that it is the role of the faith community to stand against the dominant narrative that holds up some human beings as "bad people" who are "irredeemable," who have no positive value and are only a threat to the well-being of the "good" and "innocent" people.  These are notions that stand in direct opposition to some of the most basic tenets of all our faith traditions; yet they are indispensable to justify the current state of mass incarceration.
It is not an easy task to change the Dominant Narrative.  If it is to be done, it will need to be done by faith communities that can challenge their members to return to the values of their faith.  This has been a core movement at the center of most positive social change movements in our country.
Strategy 2:  Build the capacity of Gamaliel organizations to work for criminal justice reform
The best way to build capacity for action is to act, to lead people through a process of reflection and planning, and then to act again.  As a network we recognize that the problem of mass incarceration manifests itself differently in different geographies. Different locations have different laws and policies, providing our affiliates with unique opportunities to organize issue campaigns.  Our strategy has been for each local and state organization in Gamaliel to identify its local issue, and to build a strategy around it. Leaders from each of those affiliates come together regularly for training and to share best practices and encourage the development and deepening of campaigns.  It is important to note that these campaigns, though diverse, are unified by a shared Transformational Justice narrative that emphasizes community and restorative practice.
Note:  Gamaliel will be launching our first network-wide criminal justice campaign focused on electronic monitoring and preventing mass supervision in the Fall of 2018.
Strategy 3:  Build the capacity of people with conviction histories and family members of people in prison
Gamaliel's organizing model prioritizes placing impacted people at the center of leading the issue campaigns that affect them.   Our criminal justice work has attracted many people with conviction histories, as well as their family members.  Some of these come from member congregations, but many are drawn to Gamaliel by our proven concern for the issues.

As a result, our statewide affiliate in Wisconsin, WISDOM, launched a model of organizing people with conviction histories that is being replicated in other affiliates across the country.  The Wisconsin model—EXPO (EX-incarcerated People Organizing)—builds the capacity and the confidence of the people who know the criminal justice system the best to stand together in order to make change, and ultimately changes the way people with conviction histories are seen in the wider community.  We believe that this model has a tremendous capacity for growth.  Formerly-incarcerated people and family members of those incarcerated are looking for mechanisms not just to receive services, but to be contributors.
Affiliate Criminal Justice Issue Campaigns
Nearly all of the 44 Gamaliel affiliates in 16 states are engaged in some kind of criminal justice campaign work.  Those affiliate campaigns (listed below) can be understood as issues that fall at different points on a continuum of priorities.
Prevention
Sustainable community schools
Drivers' licenses for immigrants
Early education funding
Elimination of out-of-school suspension
Restorative disciplines policies and practices
School discipline policies
First Contact with Policing
Body camera legislation
Citizen review/accountability boards
Community/police relationships
Data collection on pedestrian stops
Diversity in police force
Police involvement in the schools
Racial profiling
Courts
Alternative courts (e.g., drug) focused on restorative justice—treatment instead of prison
Juvenile court reform
Local alternatives to prison
Raise the age
Restorative justice alternatives to youth incarceration
Sentencing reform
Prison
Compassionate release
Ending solitary confinement
New county jail with family access and increased safety for inmates
Release of those eligible for parole
Restorative justice practices in prison/jail
Post-incarceration
Ban-the-box (employment and housing applications
End parole revocations for non-criminal violations
Expungement
Transitional jobs
Ending mass supervision
"To love God, we must love humanity.
To love humanity, we have to address the conditions in which we live.
The dignity of human beings matters.
Structures and institutions matter."
—Omid Safi, Director, Duke University Islamic Studies Center