Civil Rights of Immigrants Campaign
Gamaliel's Civil Rights of Immigrants Campaign (CRI) is committed to working for equal opportunity and fair treatment of immigrants, refugees, and asylum seekers. Currently, we are calling on the Biden Administration to implement Complete Inclusive Immigration Reform for the 11 million undocumented immigrants living in the United States. 
In a recent letter to President Biden, CRI outlined this urgent list of demands for Complete Inclusive Immigration Reform:
1. Moratorium on all deportations.
2. Free all detained immigrants who have no history of violence and/or who are at high risk from COVID-19.
3. Expand COVID-19 relief to include all undocumented immigrants.
4. Provide ALL undocumented essential workers protective status and work permits.
5. Expand and create permanent protections for Deferred Action for Childhood Arrivals.
6. Create a pathway to citizenship.
7. Reverse Trump's racist immigration policies: Remove the Public Charge Rule; remove practice of family separation at the border; restore family reunification as a priority in evaluating family petitions; reinstate Temporary Protection Status (TPS); remove the "Remain in Mexico" policy for asylum seekers; and restore application costs (Citizenship, LPR) to pre-Trump costs.
8. End the funding of private prisons that incarcerate undocumented immigrants. Close all detention centers.
9. End militarized funding of immigration enforcement; Hold ICE CBP/ agents accountable for abuses of power and include a quarterly accountability report; and abolish ICE from local law enforcement.
10. Address root causes of migration through financial inclusion and empowerment of remittances: Mobilize low cost remittance for savings bonds for development; invest in Sustainable employment in high migration sending communities; and focus on development to address climate change roots of migration.
Download our full letter to President Biden.
Watch the CRI's press conference to present our demands: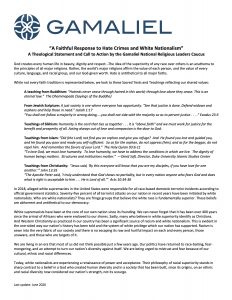 Theological Statement on Complete and Inclusive Immigration Reform
Theological Framework
"We are tied in an inescapable network of mutuality, a single garment of destiny." (Rev. Dr. Martin Luther King, Jr.)
We are leaders of diverse religious communities who have discovered in our own traditions a shared sense that each human life has worth and dignity. Beyond the differences of nationality, ethnicity and race, beyond gender and age and class, we affirm one human family sharing one planet blessed by one great Source of all creation.
We acknowledge the natural process of migration of living beings. Climate change results in the migration of plants and animals. International economic and political changes and challenges result in the movement of people to places where they may avoid danger and hope for a better opportunity for their children to thrive.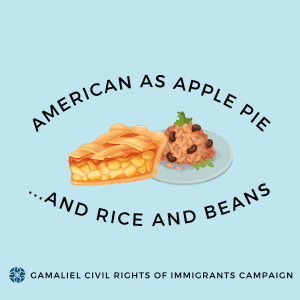 Gamaliel affiliates and supporters of Complete Inclusive Immigration Reform and the U.S. Citizenship Act of 2021 across the country joined together on Friday, July 2 and Tuesday, July 6 to tell their members of Congress that immigrants are as American as apple pie…and rice and beans!  Members of Quad Cities Interfaith, WISDOM, SOPHIA (Waukesha, WI),…