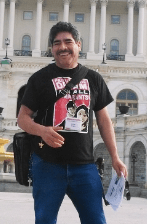 Yesterday, March 31, was the birthday of Cesar Chavez, the great labor and civil rights activist, who—along with Dolores Huerta—co-founded the National Farm Workers Association (now known as United Farm Workers).  As a tribute to his legacy, Gamaliel funder and partner, the Marguerite Casey Foundation (MCF) chose to honor local heroes across this country.
Gamaliel was invited to nominate individuals or families who are strengthening their communities through organizing and leading movements for a more just and equitable society.  We are proud to announce that our nominee, Pablo Tapia, who co-founded Asamblea de Derechos Civiles (the Gamaliel affiliate in Minnesota) was selected as one of the 2019 Cesar Chavez honorees!
Many of you know Pablo; but for those of you who have not had the opportunity to work with this courageous man, a brief profile follows.
Since 2006, Pablo has led Asamblea de Derechos Civiles to build local and statewide immigrant justice campaigns around a wide range of issues: driver cards, housing, voter rights and engagement, fair labor practices, and more.  At the national level, Pablo chairs Gamaliel's Civil Rights for Immigrants (CRI) campaign, a campaign that he has named "A Dream for All."  He has been instrumental in organizing trainings, actions, and Dream for All bus tours across key states and to Washington, D.C. at critical moments in the fight for federal immigration reform.  Juan Soto, who staffs Gamaliel's CRI campaign, says this of Pablo:  "Pablo embodies the spirit of what it means to be a true leader of community. As this country struggles with what it means to love your neighbor, Pablo is a shining example of a person putting his faith and values in the public arena. Pablo is a fighter for equity and equality for all."
To read more about the Cesar Chavez 2019 Honorees, go to the MCF website:  https://mcasey.org/2ux4nbq
Congratulations to Pablo Tapia!  We are proud to call him a Gamaliel leader!