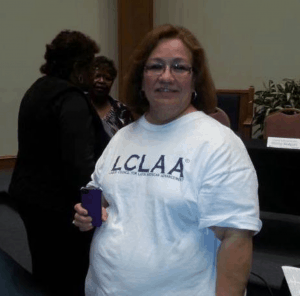 This summer Maria G. Van Core, Action Greater Lansing board member and president of Greater Lansing Area chapter of Labor Council For Latin American Advancement, LCLAA, nominated ACTION organizer Aida Cuadrado for a labor-community partnership award. She is a local and national leader on immigration issues.
What is your current involvement with Gamaliel/Action of Greater Lansing?
Greater Lansing Area LCLAA Chapter was inducted in the Nehemiah Public meeting last year. Our involvement is working together on Immigration, educating the community on what is happening and knowing what to do in case an undocumented person gets detained.
How did you get involved originally?
A LCLAA member became involved with Action of Greater Lansing and the Civil Rights for Immigrants, CRI campaign, in her church. She recruited our chapter to become involved and learn about immigration. As U.S. Citizens, many of us had no idea of the hardship it happens to undocumented families.
What are some of your recent accomplishments with Gamaliel/Action of Greater Lansing?
Greater Lansing Area LCLAA Chapter joined Action of Greater Lansing on the Introduction of Ayotzinapa43-Missing Students. Also we joined together at our Lansing City Council and presented a resolution to make our city a "Welcoming City" to the Children of Central America. And we got together and did a rally in front of Michigan Attorney General Bill Schuette's Office asking him to remove his name from the lawsuit.
You recently nominated Aida Cuadrado for an award from the labor community. Why are labor-community alliances important in your mind?
It is important to me and my chapter that we unite as a community. Many who are not in a union will think that our activities are only for union households. With Aida, we have a connection that has helped us communicate clearly on issues that are important for everyone to understand and become involved.
What are you currently working on?
We just finished doing a fundraiser for two scholarships to high school graduates in May, and we are gearing up for National Voter Registration Day. We are preparing to do nonpartisan literature drop as the Lansing City Council is preparing to have elections. I was just invited to help plan a Hispanic Heritage Month gathering for area Latino organizations.
How do you want people to view you as a leader?
When I was recognized as a National LCLAA Women's Leader last year, I was humbled to receive the award. I look at myself as an informative person. I try to get information and present it to my chapter members, and together we try to make the best of it.