"A COMMUNITY LEADER FOR JUSTICE FOR THE LONG TERM"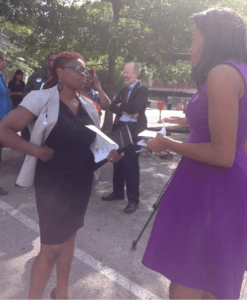 What is your current involvement with Gamaliel?
I am the Metropolitan Congregation's United (MCU) Clergy Caucus co-leader. I provide leadership for the clergy from the congregations affiliated with MCU. MCU has not had a clergy caucus in a long time due to lack of leadership. Gamaliel's National Leadership Training, learning my self-interest, working for juvenile justice in my own congregation, and the events in Ferguson made me step up to take this on.
How did you get involved with Gamaliel?
I was in seminary when I first heard about MCU. Another student at seminary invited me to a public meeting. Learning about justice was not part my early spiritual formation, but this happened in seminary. So when I learned about MCU's work, I signed up to do phone banking, had a one-on-one with an organizer, and then started getting more involved after that.
What are some of your recent accomplishments with Gamaliel?
Being able to form a clergy caucus group. The events in Ferguson, and then clergy understanding we need to do something about it, helped form the caucus. MCU, through their infrastructure, made this possible. The Caucus is going to be here for the long-term, and we need long-term strategy in Ferguson and everywhere else.
What are you currently working on?
Indictment decision day with Ferguson, prison to pipeline campaigns, and doing one-on-ones around juvenile justice and recidivism. The Clergy Caucus is focused on policing practice policies around white privilege, race, voting, and the election; we met with candidates and have been working on cutting issues around the election.
The prison to pipeline issue is especially important to me because I am a chaplain and spend most of my days with kids who are in lockup. The cycle of seeing kids locked up, seeing them leave and come back, made me realize that just my chaplaincy wasn't changing that. There was something bigger happening that I needed to begin to understand.
How do you want people to view you as a leader?
View me as a community leader for justice, but one that will be there for the long term. I am one of the thousands of leaders in Ferguson, and I know that that is not going to be my final piece. The final piece of how I want to be seen is as a leader around juvenile justice and recidivism. I believe this is where God has called me and where I believe I will have the biggest impact.
Can you talk about how your faith has inspired your leadership position?
I grew up in a diverse place in New York, both racially and economically, and I could see the differences between neighborhoods. It wasn't until I was in seminary that I understood what made those differences, and God wanted something to do with that. God was concerned with justice and equity. I always sensed that something was wrong and God cared about that, even though this wasn't made explicit in my rearing. Jesus's ministry, what he lived for, and ultimately gave his life for, was for a more just world, and it inspires me to imitate him and follow in his footsteps.
More about Pastor Baker
Pastor Dietra Wise Baker was born in Nyack, New York. She has a Bachelor of Science degree from Howard University in Washington DC and a Master of Divinity degree from Eden Theological Seminary in St. Louis, MO. and her Doctorate of Ministry Degree in Preaching from Aquinas Institute Theology, St. Louis, MO. Her thesis was entitled: "Can Anything Good Come from Nazareth, A Womanist Hermeneutic of Preaching-Not Just For Black Women."
She is ordained in the Christian Church (Disciples of Christ). Dietra has spent over a decade serving adolescent youth in chaplaincy, churches, and community organizations across the country.
Dietra is a bi-vocational planter and has been the Chaplain at Lakeside Residential Center since July 2005, and St. Louis County Juvenile Detention Center Chaplain since 2009. She planted Liberation Christian Church (DOC) in April 2009 seeking to create a church that frees lives and communities through the power of Jesus Christ. Pastor Dietra loves to dance, sing, and teach and is married to Cornell R. Baker and they have a beautiful daughter Alexis Baker.