I am an immigrant.
When I was a toddler, my parents made the decision to emigrate from the Dominican Republic to the United States.  They wanted a life of opportunity and freedom for their children—not the overwhelming poverty and violent oppression of the Trujillo regime that had characterized most of their lives.
In order to secure that life, my father had to leave the country first to create a pathway for the rest of us to be able to follow him to the U.S.  He found work and a place to live in The Bronx.  My mother followed him a little later, and so my three brothers and three sisters and I were separated and placed with relatives who would care for us.
Those were difficult years for us being separated from our parents and from one another, fearful that we might never be reunited.
My sister and I stayed with my grandmother in Santiago.  I remember U.S. Marines occupying the city, my grandmother hiding us under the bed when gunfire broke out and, again, the fear that I might never see my parents.
I remember the dresses my grandmother made for us to wear when it was finally our turn to travel to America.  No doubt, we looked like little rag dolls; but we were proud and excited to join our parents and to become citizens of the United States.  I also remember the customs agent who processed us once we arrived in the U.S.  She was business-like and efficient, but she treated us like human beings and gave two little Dominican girls traveling alone the attention and care necessary to protect us until we could rejoin our family.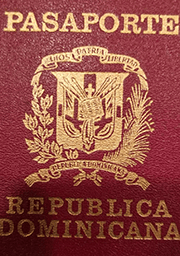 I have thought about my immigration story many times since the first stories about children being separated from their parents and incarcerated like criminals were reported last spring.  And most recently, I have cried for the two children in U.S. Border Patrol custody whose lives were cut short unnecessarily and inhumanely.
What a difference five decades of eroded immigration policy, that was once based on keeping families together, makes . . . not to mention the impact of an Administration that refuses to recognize what is happening at our southern border for what it is:  a humanitarian crisis, not a security crisis!
This new year—2019—must be the year for the U.S. Congress to legislate humane immigration policy.  Human life and the soul of this nation depend upon it.  Use the Capitol Switchboard phone number, (202) 224-3121 or (888) 352-3520, and ask for your Member's office.  And while we work to secure humane immigration policy, make sure this Administration hears from you.  Contact the White House and demand an end to inhumane immigration policies by completing the online email form at https://www.whitehouse.gov/contact/.