More than 80 women leaders and organizers across the Gamaliel Network kicked off the 25th Anniversary Year of N'tosake—Gamaliel's signature leadership development program for women—at our annual N'tosake training held this year at Colombiere Retreat and Conference Center in Clarkston, Michigan, September 20-22.  As Rev. DeNeice Welch challenged us in her opening remarks: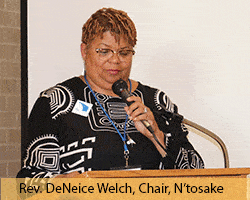 Today, Ntosake, we are twenty-five years old.  We are not five—mere children; we are not fifteen—teenagers; but we are twenty-five years old: that means we are grown women.  Four years past 21, so we are without excuse.  We are old enough, N'tosake women, to know better, to do better, to not be afraid of anything, and most importantly, to not be afraid of our own power.  You are ready . . . to be trained, to take your rightful place and fight for the justice which is your inalienable right and what you so richly deserve for your children, your community, your country and yourself.
So what does the future hold for us?  What is our destiny?  None of us know the answers to those questions but I can tell you this: we won't get there without being organized.  We won't get there without investing in ourselves.  We won't get there divided, we will only get there united.  Justice, Ntosake women, is not a destination where we can park our feet; justice is an expectation of fairness where the feet of the righteous, the feet of our ancestors, and the feet of our mothers tread a darksome path. It cost them some blood then for us to get here today.  What does the future hold for us and where will our destiny take us?  [Read the remarks in their entirety here]
Through plenaries and workshops that challenged them to wrestle with their shared and individual histories and the obstacles that have prevented them from claiming their seats at the table of power and equipped them to master the essential tools of change, N'tosake women spent two-and-a-half days forging a pathway forward for themselves, their organizations and communities, and for the future of N'tosake.  Throughout this 25th year, N'tosake women will continue to be challenged by organizers, mentors, and their colleagues to keep their feet on the pathway . . . to celebrate where they have come from and to claim the future they are shaping.
Learn more about this year's N'tosake in pictures.